[We weren't able to record today's message, so we're posting a blog of Justin's message instead.]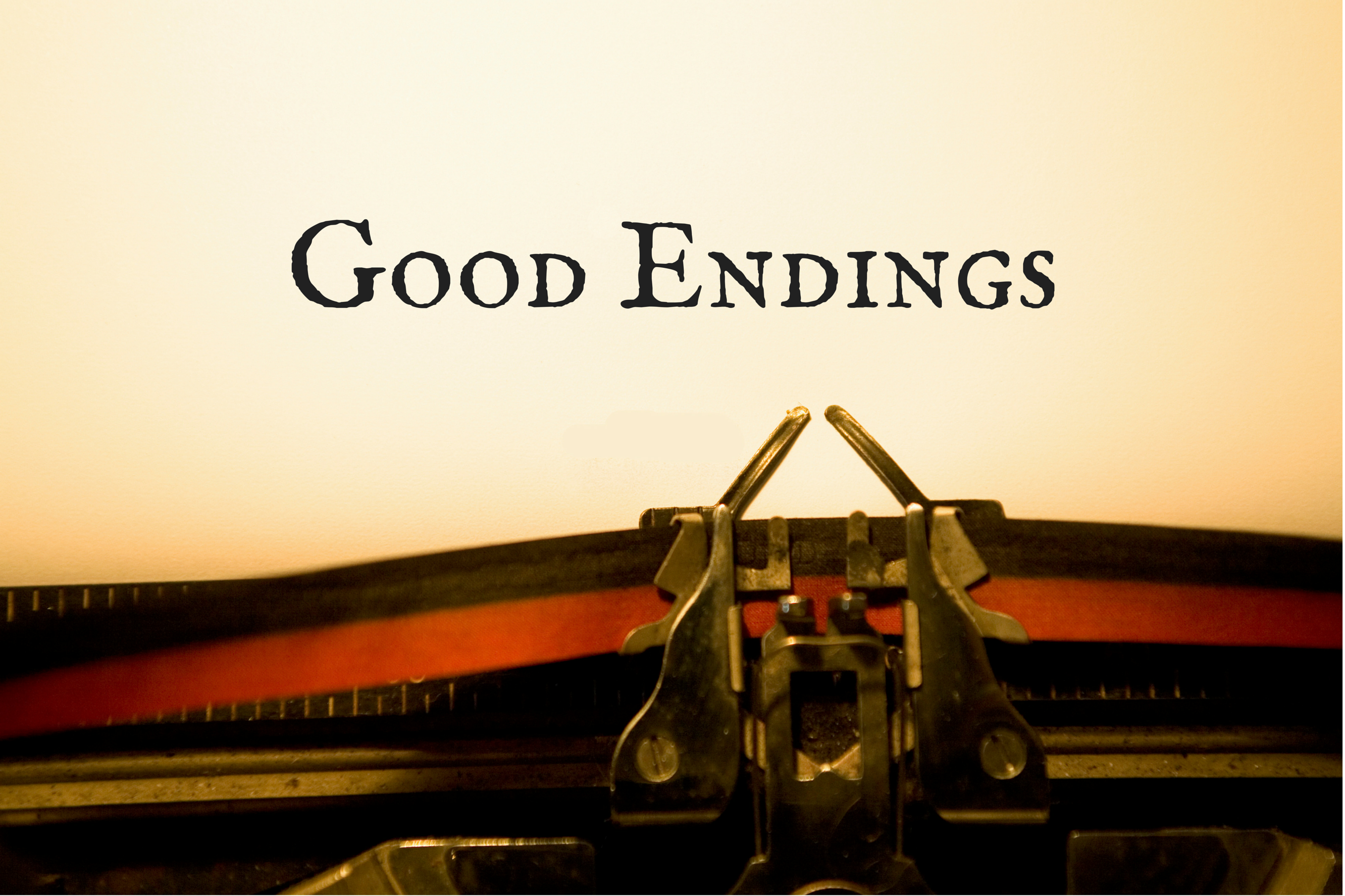 Today, on the last Sunday of the year, I thought it might be appropriate to talk about "Good Endings." How to end well. Many of you are excited to see the back of this year and to start afresh in 2016.
But I also want to talk about other kinds of endings. My friend Joseph, who's a pastor in LA, differentiates between two kinds of endings:
Some are chosen purposefully: switching jobs, ending a relationship, moving here from somewhere else, graduating.
Some are unexpected surprises: you're let go, you're dumped, someone you know or love gets sick or dies.
Let me share with you about a couple of endings in my own life: one I chose and one I didn't.
Ten years ago, I broke up with my first girlfriend after three years together. It had been an up and down relationship, but we were seriously considering marriage. She'd even traveled with me to Hong Kong, gotten to know my family; I loved hers. Only, I knew in my spirit that our relationship just wasn't right and I just wasn't ready, so I chose to end it.
There wasn't a guarantee that I'd end up with someone else, or even that I'd get married. In fact, even though I chose that break-up, it began a long season of singleness for me—one that went on far longer than I would ever have chosen.
Even with the endings we choose, we can't choose all of the outcomes or consequences.
The ending I didn't choose is when my best friend from college passed away from a brain tumor almost four years ago. Ash was a great guy—one of the best men I knew. He wasn't a Christian, even though we'd had many conversations about faith over the years. I remember, one time, he even said, "I know there's something missing from my life, and I see the peace in yours, but I'm not ready for that yet." I guess "that" meant faith or something. But he said, "Yet." I figured it would only be a matter of time.
But as his cancer got worse, it became harder to talk to him—he lived in London, I was here, and so if he wasn't responding, whether because he was going through a really difficult treatment or just feeling exhausted or overwhelmed, there was nothing I could do but pray. And I remember praying with him on the phone during what ended up being our last conversation—he couldn't really talk by that point; his sister would translate his mumbling to me. Shortly after our conversation, he went into a coma that he never came out of. I would never have chosen that ending in a million years.
But endings are part of life; they're part of the human condition. My year was full of unchosen endings—as I'm sure yours was: friends moving or leaving our community, friends getting divorced, family passing away. Often, when we experience endings, especially ones we haven't chosen, we just want to skip on to the next thing, eager to leave the feelings of hurt and discomfort and confusion behind. We don't like feeling what we feel when something ends; we don't want to feel what we feel. And so our natural response is often one of three reactions:
We can try to numb our feelings—to self-medicate with alcohol or some other substance;
We can try to fight those feelings; often we'll take out our frustrations and unprocessed emotions on someone who has absolutely nothing to do with them and can't help us with them but just happens to be the closest person to us; or
We can try to flee from those feelings; we can pretend they don't exist or do whatever we can not to think about them, maybe distracting ourselves with work or social activities or busyness.
But God desires more for us than simply to react to the happenings in life—and particularly, to its endings. Because endings of all kinds fill our lives and because God also desires to fill our lives, it's vitally important to know what to do with unexpected endings, what endings to choose, what to do in the midst of them, how to discern God in them. There are two points I want to make today, which I'll unpack over the rest of this message:
If God is involved, every ending is an opportunity for new life. This doesn't take the pain away or make everything easy, but it makes every moment full with the possibility for redemption.
The way we involve God in our endings—to allow him to bring new life out of our places of death—is through the practice of lament.
This week, I want us to take a look in the Bible at a woman who knew something about endings, who knew a lot about endings. In fact, in the space of one short chapter, she experiences seven endings. Her name is Naomi, and we find her story in the book of Ruth:
1:1 In the days when the judges ruled, there was a famine in the land. So a man from Bethlehem in Judah, together with his wife and two sons, went to live for a while in the country of Moab. 2 The man's name was Elimelek, his wife's name was Naomi, and the names of his two sons were Mahlon and Kilion. They were Ephrathites from Bethlehem, Judah. And they went to Moab and lived there.
This all takes place about 1,100 years before Jesus. There is no king in Israel, only lay leaders known as judges, who would be raised up by God in times when the nation of Israel was under threat or being oppressed. And in this setting, we're introduced to this family: a man, Elimelek; his wife, Naomi; and their two sons, Mahlon and Kilion.
Did you spot the first two endings? The first one is a surprise and the second one is chosen; the first is the famine, the second is the move to Moab. Because of a shortage of food, the family have to transplant themselves from their home and their homeland, moving about 100 miles north to a foreign country, a Gentile country, in order to survive. Moving because of famine, moving in order to find food, was a common occurrence in those days—Abraham and Isaac and Jacob all did it.
But after their move to Moab in search of greener pastures, things don't go quite as planned:
3 Now Elimelek, Naomi's husband, died, and she was left with her two sons.
Ending 3. That's not how things were supposed to go. They were supposed to move there in order to live; but instead, they moved and he died. To be a widow in that time and place, in the patriarchy of the ancient Near East, was to be pretty helpless, without political or economic status. Widows would be in a similar position to the homeless in our society, with no protection and no voice to speak for them.
4 They married Moabite women, one named Orpah and the other Ruth.
So things are beginning to look hopeful, but then …
After they had lived there about ten years, 5 both Mahlon and Kilion also died, and Naomi was left without her two sons and her husband.
Endings 4 and 5: both of her sons die, and now there are three widows on their own.
What would you do in that situation—with that much loss?
How would you feel? Hopeless? Worn out? Tired of mourning?
I know there are people in our church who've lost children, who've lost spouses, who've lost loved ones—even this year. Maybe you know what she's going through; maybe you can empathize with her.
After the unexpected tragedies of endings 3, 4, and 5, Naomi chooses endings 6 and 7:
6 When Naomi heard in Moab that the Lord had come to the aid of his people by providing food for them, she and her daughters-in-law prepared to return home from there. 7 With her two daughters-in-law she left the place where she had been living and set out on the road that would take them back to the land of Judah.
Ending 6: choosing to leave Moab, where they had lived for over ten years. It was a wise thing to do: returning to the place where there was family, food, and social support.
8 Then Naomi said to her two daughters-in-law, "Go back, each of you, to your mother's home. May the Lord show you kindness, as you have shown kindness to your dead husbands and to me. 9 May the Lord grant that each of you will find rest in the home of another husband."
Ending 7: Naomi releases her daughters-in-law to return to their homes. This is a tremendously noble, honorable, self-sacrificial gesture on her part. They're young, and she wants them to be able to remarry and have children of their own—and hanging out with an older widow wasn't the best way to go about finding a new husband in those days.
But both Orpah and Ruth plead with her to let them stay. Over the years of being family, they'd grown close. But there was probably a very practical consideration as well: they knew that if they left her, she'd not only be a widow—she'd be a widow on her own. They didn't want to leave her to fend for herself. Again, such self-sacrifice, such honor, such love.
Eventually, though, Orpah relents and agrees to return to her family. But Ruth says:
16 "Don't urge me to leave you or to turn back from you. Where you go I will go, and where you stay I will stay. Your people will be my people and your God my God. 17 Where you die I will die, and there I will be buried. May the Lord deal with me, be it ever so severely, if even death separates you and me."
It's one of the most beautiful expressions of love in Scripture: a young widow committing herself to endings of her own—leaving her homeland, leaving her people, leaving her religion—and choosing to bind herself and her life and her fortunes to her mother-in-law. The story of Ruth is a truly great one, and maybe we'll cover that another time.
So Naomi and Ruth return to Bethlehem, and the whole town is stirred up. After years away, Naomi's returned! Is it really her? If Disney made a movie about this first chapter—well, maybe it wouldn't be a kids' movie, for one thing!—but this would be the triumphant return. She's lost so much, but bonded with her daughter-in-law and now they're finally home—where there's food, where she's known and loved. The credits would roll as the camera pans out from the scene of the two women being welcomed into the loving arms of their community. But that's not what happens:
20 "Don't call me Naomi [which means "pleasant"]," she told them. "Call me Mara [which means "bitter"], because the Almighty has made my life very bitter. 21 I went away full, but the Lord has brought me back empty. Why call me Naomi? The Lord has afflicted me; the Almighty has brought misfortune upon me."
The Disney movie ending doesn't happen.
The reality is, whether we choose them or not, endings change us; they leave traces, scars, baggage.
The end of a marriage; the end of someone's life; the end of a good season in life—these all leave scars. Naomi sees God's hand at work and she's not happy about it. She left her home because of famine—her stomach was empty—but at least her family was full; now she comes back to food—a fullness of a physical kind—but her family is empty. See, it's always harder losing relationships than it is experiencing difficult circumstances, and difficult circumstances are always harder to endure when we don't have loved ones around us—a support system, folks to encourage us.
When we're in the middle of a season of endings, particularly when things are going pretty terribly and we can't imagine what God is doing in the midst of it all, bitterness and anger and disappointment are natural responses. That's one of the things I love about the Bible—and our faith: it doesn't shy away from the truth and reality of the human experience in all of its raw and brutal difficulty. And that's because God doesn't shy away from the truth and reality of the human experience. God doesn't shy away from suffering or pain. Instead, as the apostle Paul wrote, "in all things God works for the good of those who love him, who have been called according to his purpose" (Rom. 8:28).
There's a bigger picture, though most of the time we don't see it, though we may never see it or understand it while we're alive. Our endings are not the end. The promise of Scripture is that if all is not well between us and God, between us and each other, between us and our world, then it is not the end—though we experience all kinds of endings in the meantime—and in this time of not-quite-the-end endings, God can bring new life out of every one of them … if we'll trust him and invite him into them. That's the fourth way of responding to endings, the way I'd propose leads to life and health and wholeness: to trust God and invite him into those moments. God wants to be with us in those endings. God wants us to invite him into those endings.
The way people did that in the Bible, the way people have been doing that for thousands of years, is through the practice of lament. My friend calls it "good grief." Ending well. Not just moving on or getting over it, but allowing God to bring good out of your ending.
Living in 21st century America, we inhabit in a culture that shuns the discomfort of lament, that doesn't know what to do with good grief, that does whatever it can to prevent us from experiencing both the pain and the release that lament can bring. Folks who've walked with God throughout the years haven't had that problem. It's estimated that 40% of the psalms are psalms of lament; and up to 70% of the psalms contain some lament. There's a whole book of the Bible called Lamentations, in which the prophet Jeremiah grieves the fall of Jerusalem and the exile of Judah.
But there's a difference between the dictionary definition of lament and the biblical understanding of lament—and that difference is God.
Biblical lament is about facing reality in all of its difficulty and all of its awfulness with God.
It's more than just complaining or whining about something that's wrong; lament is mourning, grieving, bringing our sorrows—and here's the important part—to God, communicating with God, relying on God.
Psalm 13 is one of the best known lament psalms, and it begins with a cry of "How long, O God, will I wait?" And it ends with a declaration of faith in God: "I trust in your steadfast love; my heart shall rejoice in your salvation."
 The book of Habakkuk ends with a similar declaration of hope in God:
Though the fig tree does not blossom, and no fruit is on the vines; though the produce of the olive fails and the fields yield no food; though the flock is cut off from the fold and there is no herd in the stalls, yet I will rejoice in the LORD; I will exult in the God of my salvation. (Hab. 3:17-18)
We may feel like God is nowhere to be found; we may feel like God is out to get us; we may feel like there's no way out; but here's the thing: our feelings are important guides in self-awareness, but they're really poor at objective truth. Some things remain true regardless of how we feel, and one of those truths is that God is a good God. If God is revealed to us in the person of Jesus, God is a loving God, a gracious God, a good God—who desires and longs for and works for our ultimate good.
So lament, though it may sound bitter and angry—though it may feel bitter and angry—if it's brought to God, it's at least being brought to the one who can do something about the situation, who is already doing something about the situation—even if you can't see it, even if the outcomes looks different from what you wanted or what you expected.
God is the kind of God who's big enough to give us the freedom to be completely honest with him, just as Naomi was. Remember what she said? "God, you've made my life very bitter; God, you've brought me back empty; God, you've afflicted me; God, you've brought misfortune upon me." Maybe, in your season of endings, you've been wanting to say something to God and it sounds kind of like that—"God, I think you might be doing this to me on purpose. God, I don't think you like me right now. God, I don't like you right now. God, I'm not sure you're even there."
Maybe you feel like you're not supposed to say it because it's disrespectful or something. Believe me, God can handle it; and not only will he handle it, but he'll help you work through your ending, he'll bring life out of it, he'll help you distinguish between what you're feeling and what's true.
Naomi felt like her endings were signs that God was punishing her, that her life was empty, that God had turned against her. But the truth was that there were signs of new life even then, new life that hadn't been there at the beginning of the story—Naomi's love and care for her daughters-in-law, Ruth's love and commitment to her. God was working in the midst of tragedy—in the midst of their endings—for their good. In that moment, though, Naomi couldn't see what God's plan was. Remember, we rarely can while we're living it out.
But she would play a part in the story of her daughter-in-law Ruth; she would play a role in matchmaking Ruth with a man named Boaz, who would become her husband and the father of her son Obed, and that boy Obed would become the grandfather of a little boy named David, who himself would become the greatest king of Israel and be the ancestor of the one whose birth we just celebrated on Christmas Day—Jesus.
Naomi, with all of her endings, with all of her scars and baggage, had an invaluable part to play in the story of God. God is writing a bigger story. And because God is present in it all, because God is at work in it all, because God invites us to be with him through it all and desires for us to invite him into it all, new life can come out of death, new joy can come out of grief, and new growth can come out of our endings—whatever they may be.
Jesus was proof of that, the ultimate embodiment of that. Jesus, who chose and endured the most tragic ending of all so that we might know God's good ending. Jesus, who took our sins onto his innocent self so that we might be clean. Jesus, who experienced separation from his Father so that we might be reconciled to him. Jesus, who died on the cross so that we might live and have life. Jesus, who was known as the Man of Sorrows, with you in your grief, with you in your endings.
Jesus, who is here with us today, who desires to meet with you today, to walk with you and to talk with you and to tell you that you are his own, no matter what endings you've chosen this year, no matter what endings have been thrust upon you. C.S. Lewis said
"There are far, far better things ahead than any you have left behind."
I believe there's someone here who really needs to hear that. We need those words; we need that truth. Don't miss what God is doing right now in and through your endings; trust in the God who loves you and cares for you, even if you can't see those seeds of hope, those signs of new life.
John Goldingay was a professor of mine at Fuller Seminary, and he experienced plenty of endings of his own. Shortly after he and his wife got married, they discovered that she had multiple sclerosis. Over the next forty-three years, he cared for her as her body deteriorated, until she passed away a few years ago. He wrote this:
So many things we achieve are achieved only through struggle and conflict, not in easy ways. They always seem to involve crosses. I have so longed to find somewhere in life some corner where joy is unmingled with pain. But I have never found it. Wherever I find joy, my own or other people's, it always seems to be mingled with pain. And I find that the people I most respect are people who know the link between joy and pain. And I have found that if we will own pain and weep over it together, we also find Christ's overflowing comfort. The bad news is that there may be no corner of reality where joy is not related to pain. The good news is that there is no corner of reality where pain cannot be transformed into overflowing joy.
I want to invite you to reflect on these questions as you look to end this year well:
What endings have you experienced or chosen this year?
What endings is God calling you to choose as we end the year? Maybe it's a bad relationship, maybe it's a bad habit, maybe it's a bad way of relating to someone or something.
How is God calling you to grieve or lament, to invite him into the process, to tune your awareness into what he's doing?