Holy Spirit Workshop
Wednesday, June 14, 2023, 7:00 PM - 9:00 PM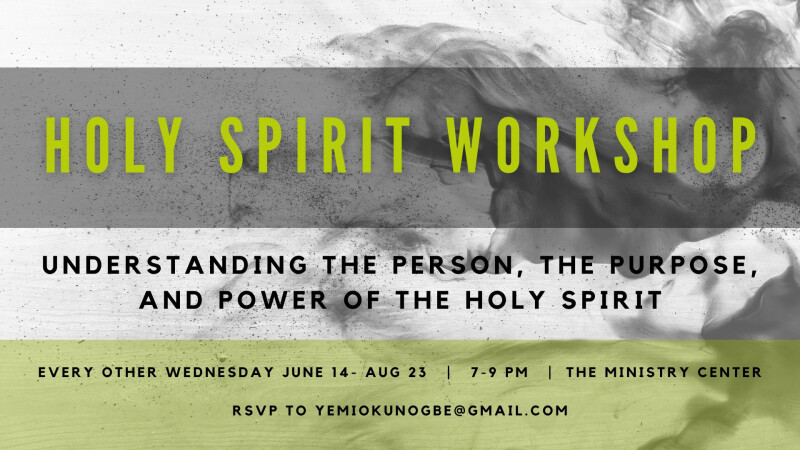 Would you like to know God more intimately?
Do you want to be able to confidently recognize His voice and fulfill His purpose for you in all areas of your life?
Do you want to grow in experiencing God's power in a supernatural and transformative way?

If so, you do not want to miss our upcoming practical 6-session workshop on the person, purpose, and power of the Holy Spirit, led by Yemi Okunogbe. The workshop will equip you to understand who the Holy Spirit is and how He practically enables us to live like Christ.

Modules in the workshop include:
Who is the Holy Spirit and why do you need Him?
Building intimacy with the Holy Spirit.
The dimensions of the operations of the Holy Spirit How to be led by the Holy Spirit.
How to walk in the power of the Spirit
The workshop will have 6 sessions (every other Wednesday evening from June to August)
7-9 pm: June 14th, June 28th, July 12th, July 26th, August 9th, and August 23rd

Venue:
The Ministry Center
Commitment:
To get the most out of the workshop, we ask that you sign up only if you can commit to attending at least 5 of the 6 sessions.
Please sign up for the workshop by emailing Yemi Okunogbe at

by June 7, 2023.