Kids City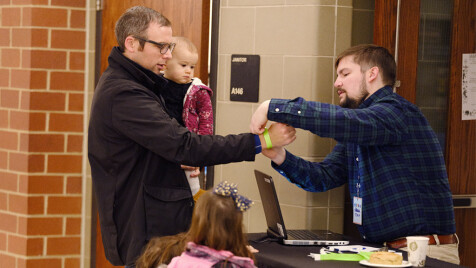 Welcome! Kids' City is the children's ministry of The District Church. Our mission is to provide a safe and fun environment that works to equip and support parents to raise their children knowing, loving, and following Christ. We take very seriously our responsibility to care for these kids and do everything in our power to keep them safe, supported, and pointed to Jesus. For more information, email our Executive Pastor
We use The Gospel Project curriculum which is structured to follow the Bible book by book, tying each lesson back to the story of Christ. Typically each class hears the same lesson but at an age-appropriate level, so parents can continue to talk through the lesson as a family across age groups. During COVID, our teachers post a weekly video lesson in the TDC Family Facebook group for the kiddos to watch.
TDC FAMILY FACEBOOK PAGE
Our Family Facebook Page has videos for your kids, crafts, fun activities to try as well as other resources. If you are a regular attendee at TDC and want to join our Family Facebook page, please click on the link below to request to join.
Baby/Child Dedication:
We love celebrating the children at our church. Dedicating your baby/child allows The District Church community to pray with you, celebrate with you and stand in commitment with parents/guardians as they choose to publicly commit their child to God.
Child dedications are not baptism. It is a beautiful opportunity to express your desire to follow God and raise your child to love Jesus. Hannah dedicated Samuel to God in I Samuel; we follow in her footsteps as we go through this public declaration. Your child belongs to God and you commit to teaching Biblical values to your family. It also gives the church family a chance to be part of your child's spiritual journey and development. If you are interested in having your child dedicated email
Resources for Parents
There is no one that has more influence in a child's life than her or his parents/guardians. We believe parents/guardians are the primary spiritual influencers in their kids' lives and we are, therefore, committed to partnering with parents and families.
Below, you will find content and resources we hope will be useful in helping you lead your children in developing a personal relationship with God and a deepening understanding of their God given purpose in life.
Please feel free to reach out for any specific recommendations.

Books:

Parenting: 14 Gospel Principles That Can Radically Change Your Family by Paul David Tripp
Sacred Parenting: How Raising Children Shapes Our Souls by Gary Thomas
God Made Me and You: Celebrating God's Design for Ethnic Diversity by Shai Linne
The Jesus Storybook Bible by Sally Lloyd-Jones