As a church that strives to seek the welfare of its city, The District Church has long felt a call to address one of the key needs in the District of Columbia: the crisis-level lack of affordable housing. In order to discern what a housing ministry might look like, church members and leaders spent several years praying, listening, researching, and learning from other churches, organizations, and community leaders. We explored how The District Church could fill existing gaps and lend support to the fight for housing security.
In November 2017, The District Church launched Just Homes, a housing initiative designed to mobilize and equip faith communities in DC to pursue biblical justice by meeting the affordable housing needs of the city.
Seeking the vision of a just city where everyone has a home, Just Homes serves as an educator and a convener, providing tools, resources, and other support to churches as they respond to the affordable housing crisis. We believe that churches can make a significant impact in closing the housing insecurity gaps in DC by working together to build affordable housing, investing in affordable housing, and serving alongside households experiencing housing instability.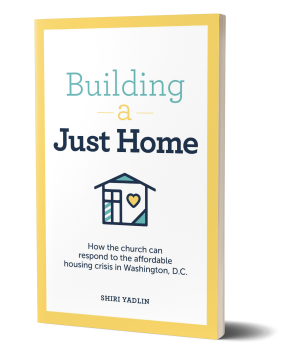 In 2020, Just Homes published a manual that teaches faith leaders about the affordable housing crisis and how to get involved, and we continue to build upon that foundation with educational content designed to train faith leaders and members of congregations with tools to pursue a biblical vision of justice in D.C.

We encourage you to visit the Just Homes website, justhomesdc.org to learn more and get involved!